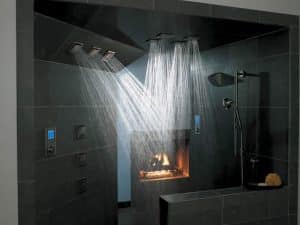 At Indy Renovation—Indianapolis's premier bathroom remodeler, we have yet to meet a satisfied customer who wished we had done less in his or her master bathroom. Your bathroom is the perfect place to add a little luxury, a place to create your own at-home spa experience. If you're going to remodel your master bathroom, you might as well do it right. Just imagine coming home at the end of a long day to enjoy these ultimate master bathroom features.
Custom Shower
You've always wanted a walk-in shower, one with frameless glass and beautiful artisan tiles. You dream of a shower bench and a rainfall shower head. Our plumbers can even install a steam feature.
Dual Vanities
If you share a bathroom, having only one bathroom vanity gets cramped fast. When remodeling, we recommend that you opt for dual vanities or two separate vanity/sink combos. That way, you can each have your own space to get ready and to store your bathroom essentials.
Heated Flooring
You don't want to get out of your custom shower after a nice steam only to put your toes on cold floor tiles. Instead, ask your contractor about the possibility of radiant floor heating on top of custom tiles. This can keep your bathroom floor looking and feeling good.
Soaker Bathtub
In our experience, you're either a bathtub person or you aren't. If you are, then we recommend you treat yourself to a soaker tub. Daily, you can submerge yourself in a hot bubble bath and let the strain of the day melt away. You won't regret that upgrade.
Upgraded Lighting
Good lighting is important in a bathroom. It can enhance the atmosphere while also making simple tasks like putting on makeup much easier. If you can get more natural light by installing or enlarging a window, do so. Otherwise, consider how to upgrade your lighting fixtures.
Get Started Today
With these and other master bathroom features, you may never want to leave. To start planning your ultimate bathroom, contact Indy Renovation today at (317) 375-4464.